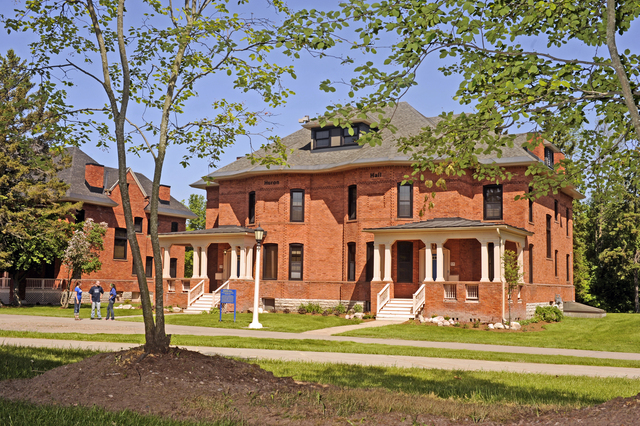 I'm in Sault Ste. Marie this morning, watching snow fall through the big windows at Penny's Kitchen.  It's a Christmas-y snow.  Big flakes, tumbling a little.   Yesterday the sun shone bright and I didn't really need the big red scarf I wore.  I sat in the library at Lake Superior State University talking with student writers about their work, drinking in the way the sun shone off the red bricks of the old officer's quarters.  Thinking about geology, about poetry, about why we write, then thinking that doesn't matter so much, the why of it.  We do, that's all.  We write, we're each a unique voice, full of detail and surprise.  We write and become better readers and better see-ers, or anyway we try.
Judging the university's annual writing contest was fascinating and an honor, and meeting the students was a joy. They were invigorating, inspiring, interesting.  Sitting here, I lean toward each one in my mind.  I tap their arm, say, Oh, tell me how it all turns out.
Again my thanks to Lake Superior State University for awarding me the Writing the U.P Award, and for inviting me over for a lovely day with students, a fantastic dinner at Zorba's with the creative writing faculty, and the opportunity to read in the Cisler Center's Crow's Nest.  Also to Public Radio 90 in Marquette for the fun impromptu interview before I left for the event yesterday morning.  I know it aired around 11 or so.  I couldn't hear it 'cause it's the U.P. and me and my truck were too far off from the station to haul in reception, but no matter.  It's the U.P. and it's all good.
Category: Life | Tags: Lake Superior State University, Sault Ste. Marie, Writing the U.P. Award Comment »